If you would describe it simply, there are two traits a cat always, always have and it is:
Basic color

A Pattern, tabby, mackerel, spotted or ticked, (it can actually be two but this will be brought up later).
Then we have a lot of different traits that will affect how the cat will look like in the end. But in this section we will only talk about the basic colors and agouti which determines whether the cat's patterns should be displayed or hidden.
By starting from scratch and forgetting all other traits that will change the color of the cat, it is easier to learn all different colors, learning the inheritance from scratch and then building it up piece by piece.
Basic Color
The basic color of a cat is always black or red, so a cat always has the trait black, red or both in a tortie.
The genetic denominations are:
Black = o
Red = O
Blacktortie = Oo
The basic color are sex-linked, which means that it is inherited on the X chromosome. As we know (if we did not sleep in school), the eggs are always X and the sperm determines the sex by being X or Y.
XX - female
XY - male
As you can see above, the males always get their color from the mother (they only have one X).
The females, on the other hand, get the color from both their mother and their father, this is why a female can become a tortie, both red and black.
Note that we now ONLY talk about the basic colors, ie red and black. So if we take the example above with Black and Red, we can see the genetic differences between males and females.
The genetic denominations are:
For a female:
Black = oo
Red = OO
Blacktortie = Oo
For a male:
Black = oy (y since the male has XY and therefor no color on Y)
Red = Oy
This applies to all cats, whether they are blue, cream, red, black, different types of torties, with or without silver, with or without white, with or without patterns. These two basic colors are always one of the traits in your cat, one of them or maybe both if you have a female.
Agouti
Now, lets move on to the next part, as I wrote at the top, all cats have a pattern (sometimes two), but we will not discuss these in this part, I will describe different patterns in the future. In this part we will only talk about the Agouti gene, it is the trait which controls whether the pattern that the cat is wearing should be displayed or hidden. But before we begin with this, I think it's good with a quick very brief basic review of dominant and recessive traits.

Dominant or Recessive
Traits is inherited in genepairs and kittens will then inherit one gene of these trait from their mother and one gene of the trait from it's dad. Keep this in mind, go back here if it gets messy. I will trait by trait visually paint up the inheritance so it will be easier to see it in front of you in all the articles and for all traits. I will also initially state whether it is a dominant or recessive trait.
Dominant traits:
Must be seen in one of the parents to be carried on and can not be worn hidden.
For the dominant traits, this means that there is enough with ONE set of trait, for it to be seen.
Recessive traits:
Can be worn hidden, for a recessive gene to be seen, it is necessary that the cat has the trait twice. So if the cat only have one set of the trait, it is not enough for you to see be able to see it. A recessive trait can be worn hidden forever and ever before it suddenly reappears.
Well then, after a sidetrack, to find out some basics, lets continue with the Agouti trait, this is the trait that determines whether the pattern the cat is wearing should be displayed or if the pattern is to be hidden.
Agouti / Non-agouti in everyday speech patterned / nonpatterned or patterned / solid.
Agouti is a dominant trait.

Agouti = A
Non-agouti = a
| | |
| --- | --- |
| A/A Homozygot agouti | All offspring will be patterned (agouti) |
| A/a Heterozygot agouti | Offspring may become agouti or non-agouti. Depending on whether the other party is A/A or A/a |
| a/a Homozygot for non-agouti | If this cat is mated with a non-agouti, all offspring will also become non-agouti. |
Here you must keep in mind that in some colors this trait is more or less transparent, especially in red or cream. Silver and blue can also have some transparency especially at certain ages.
This allows you to see the pattern on the cat even if it is non-agouti, thus not patterned.
I usually compare red with a glaze and black with a regular paint. If you paint a board with a glaze, you will always see the underlying pattern, but if you paint a board with paint, you will not see the board's patterns through the color. Similarly, red act like a glaze and black act like a paint.
Here is a good example of a solid red cat (solid red) with a very clear pattern.
Dagdrivarn Prince Mozez who is aa (non-agouti).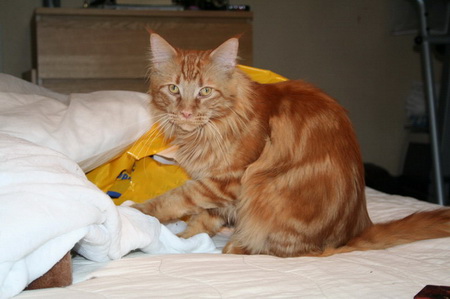 Here you might ask yourself how do i then see if a cat is patterned or not on a red or a cream? There are ways to see this, if we only have red and cream, it's easier, if you mix in for example silver it can be trickier and sometimes even really difficult. Many times, a DNA-test is the only way to be completely sure if the cat is agouti or non-agouti when we deal with these colors.
Below are two red cats, on the left a red classic tabby and on the right a solid red.
| | |
| --- | --- |
| | |
| Agouti – Here you can clearly see that the cat is light in the ears and the edges of the ears, it has so called glasses (the bright markings around the eyes), and are also light around the mouth. An agouti is also brighter under the stomach, and you can look in the back and will see that the cat is light around the anal o up in a string on the underside of the tail. | Non-Agouti – Here you can see instead that the cat is dark in the ears and around the ears, the marks around the eyes are there but are not white, only slightly brighter than the basic color, as well as the mark around the mouth and under the stomach. A non-agouti is evenly colored on the underside of the tail and around the anal. |
In conclusion, i will take some examples of the inheritance of the trait.
In this example, we have a mother who is homozygous agouti and father who is agouti but carrier of the non-agouti.
Father
A

Father
a

Mother
A

AA

Aa

Mother
A

AA

Aa
As we see above, all kittens will be agouti (you will remember above that agouti is a dominant trait and it is only required that the cat has one gene for it to appear). 50% for homozygous and 50% for heterozygous (agouti, carrier of non-agouti).
In this example we instead have both mother and father who are heterozygous, agouti and carriers of non-agouti.
Father
A

Father
a

Mother
A

AA

Aa

Mother
a

Aa

aa
Here the odds have changed a lot, 25% will be homozyot agouti, these in turn will never be able to get an non-agouti offsprings. 50% will be agouti but will carry the trait for non-agouti. And finally 25% will be non-agouti.
In this example, we have a non-agouti mother and a father agouti and carrier of non-agouti.
Father
A

Father
a

Mother
a

Aa

aa

Mother
a

Aa

aa
As you can see above, we have gained another distribution, 50% will be agouti, carriers of non-agouti and 50% will be non-agouti.

So, we'll take one final example to make it really clear. Both mom and dad are non-agouti.
Father
a

Father
a

Mother
a

aa

aa

Mother
a

aa

aa
In this last example, we can see that all offspring will be non-agouti, there is no agouti-gen to be inherited. So all descendants will be non-agouti, therefore two solids can never ever get an agouti offspring.
By: Malin Sundqvist